Instead of shelling out the big bucks to break down walls expanding your house, why not just build new ones?  Constructing an unattached small structure can add square footage and value to your property in a variety of ways.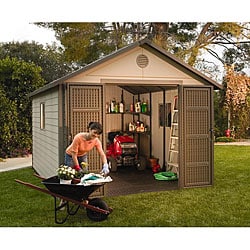 Storage
Traditionally a storage shed for single family homes is a coveted addition.  It can hold gardening and lawn care equipment, tools and all of those toxic cleaning products you don't care to store under the sink.  It's a cheap and basic structure to build and depending on your locale, won't require a building permit.  No matter what your skill level, building a simple shed is attainable.  
     Work Space
Whether you're working on a best-selling novel, need a quiet space to concentrate or just working out, having a room away from everything else can be achieved with a small structure.  If you don't already have space in your home for an office or study, adding one to your backyard can be cheaper than expanding your home.  More complicated structures, especially those including electricity, can require permits, so be sure to do the research and include them in your budget.  You would not necessarily have to include running water in a structure used for that purpose.  However, it may be something to consider for future upgrades.
     Guest (or Renter's) Home
It's already been proven what big things you can do with little spaces.  Small houses in backyards are already trending in larger cities around the country where cheap housing is hard to come by.  Make a few extra bucks by hosting a renter, or have a private, elegant space where your guests can sleep while staying with you.  The great thing about this option is that you don't have to have all the funds up front, but rather plan ahead for eventual upgrades.
There are of course many other uses for your tiny build, like a greenhouse or a pool house, it just depends on what makes the most sense for you.  You can start from scratch or buy a prefab, but either way it's a great investment, as adding usable square footage to your home always is.  Even if you're starting with a simple structure, like a shed, make sure you plan ahead by mapping utility lines on your property and follow local building codes for eventual resale. 
WandaFears, Realtor ABR CRS GRI WCR
Richmond, Va. Long and Foster Realtors

www.wandafears.com
wanda@wandafears.com

804-909-2777
www.facebook.com/wandafears